The 521HUB Business Park consists of two building of 8 floors each. It has been built on a plot of 19,377 sq m and offers gross leasable office spare of 43,770 sq m, of which 18,891.72 are below the ground level, divided in two levels.
Each floor has almost 3,000 sq m of built area, except for the ground floor and roof level which have approximately 2,000 sq m due to porticos or terraces. The building is divided into two identical and symmetrical hubs, and each floor is divided in turn into 8 office units, 4 office units per hub. Office units have a surface area of 363 and 373 sq m (250 on the ground floor and roof level), which can be merged to provide larger surface areas.
The business park also offers 850 parking spaces, of which 250 are uncovered, and includes an area for visitors and suppliers.
There is a 24-hour security cabin, with qualified staff, at the entrance of the premises.
The Line 9 "Rivas Futura" metro stop is 300 m from the park entrance.
The H2O shopping Centre, on the doorstep, offers over 120 shops and stores, of which 30 are restaurants.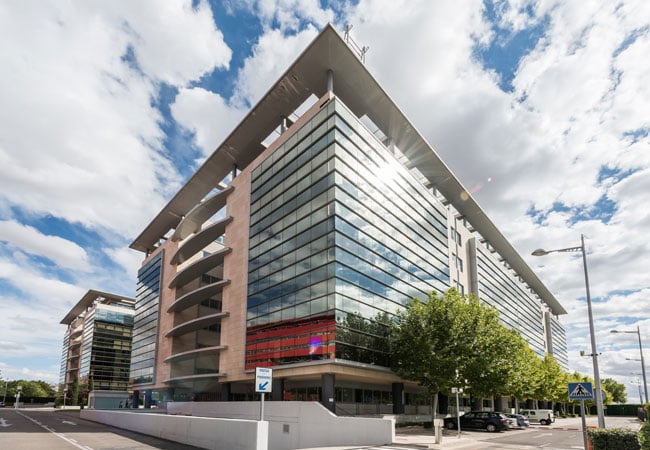 25 outdoor CCTV cameras.
Range of access control and surveillance services.
Vehicle plate identification barriered access.
Parking area for visitors and clients.
Extensive green areas with fountains and benches.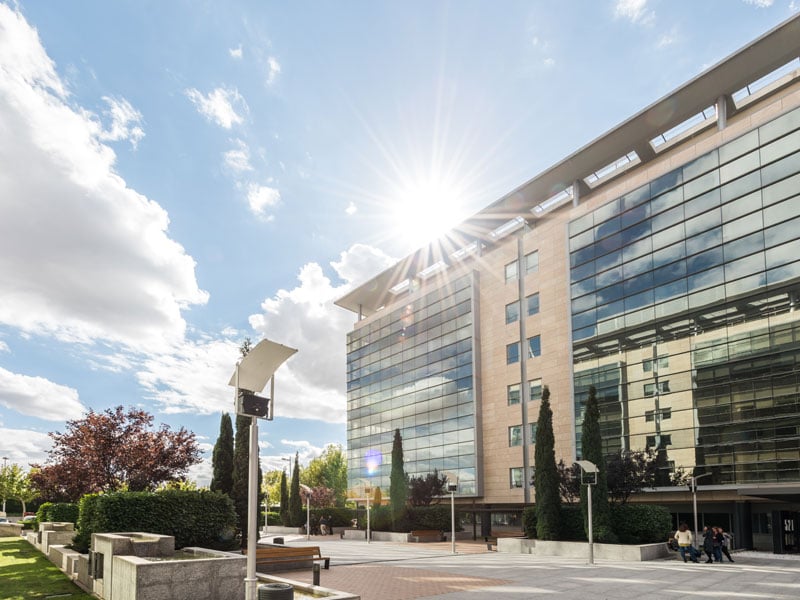 ---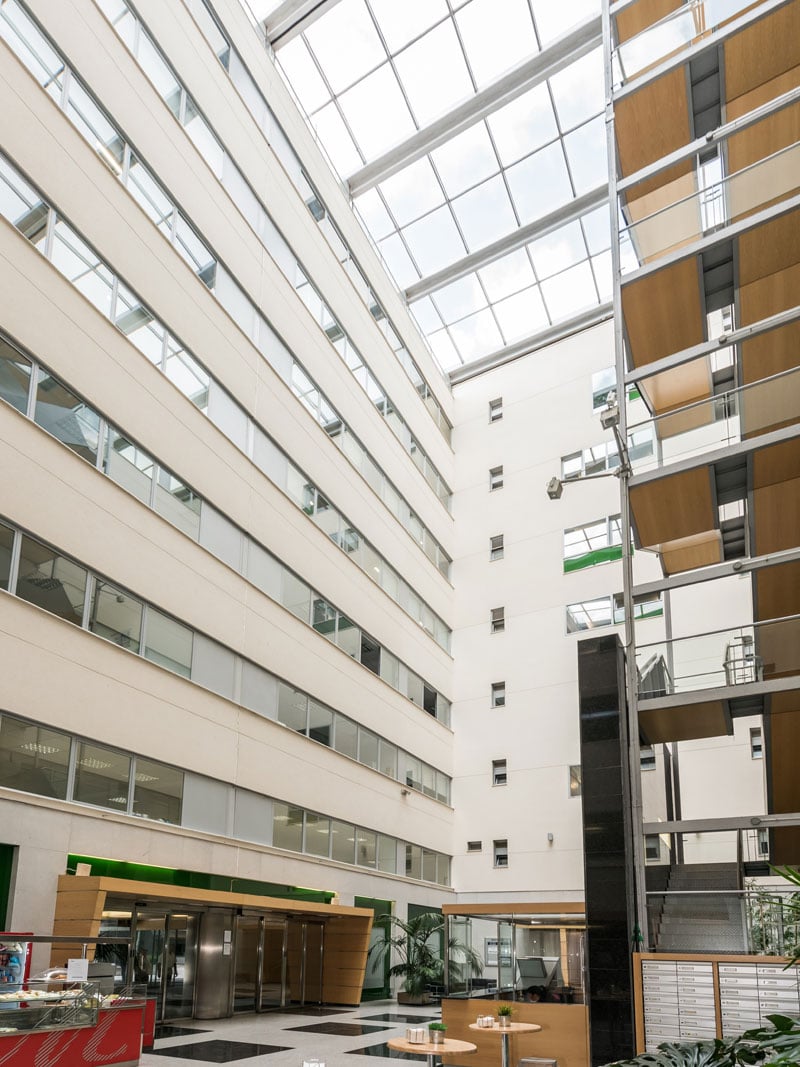 Maximum flexibility in terms of rental space, allowing divisibility of available floor area from 200 sq m up to 3,000 sq m on each floor, or even a single tenant for the entire building.
Distinctive recently refurbished lobby.
Double-glazed curtain wall façade with solar control and air cavity and marble panels.
Natural light in all offices due to continuous glass from raised floors to suspended ceilings and internal courtyards of the building.
Toilets located in each office unit and on the lobby of each floor.
2.70 m overhead clearance.
15 cm raised access floors with 60 x 60 cm tiles.
38 cm suspended ceiling, including lighting fixtures.
Each building has 8 Fain elevators, 4 in each hub. One of the elevators in each hub has been set up as service lift.
Storage rooms on Basement -1 level.
Centrally fitted core and perimeter zoned HVAC system allowing the office units to be divided into two or more separate zones.
Fire detection system for each office unit with 6 smoke detectors, manual call point, visual indicator, siren, fire hose reel cabinet and two 60k capacity dry powder fire extinguishers.
Designated rooftop space for generators or miscellaneous machinery.
Fully integrated high-speed fibre optic broadband.
Building

1
FLOOR
7th
6th
5th
4th
3rd
2nd
1st
Ground
Total
AVAILABLE SURFACE AREA
2,201.64 sq m
2,947.92 sq m
2,947.92 sq m
2,947.92 sq m
2,947.92 sq m
2,947.92 sq m
-
-
16,941.24 sq m
Building

2
FLOOR
7th
6th
5th
4th
3rd
2nd
1st
Ground
Total
AVAILABLE SURFACE AREA
-
1.110,87 sq m
-
-
1.473,96 sq m
373,89 sq m
726,18 sq m
251 sq m
3.935,9 sq m
RIVAS - VACIAMADRID
SURROUNDING AREA AND CONNECTIONS
Rivas-Vaciamadrid is a town located 15k from Madrid, adjacent to the A3 motorway.
The 521HUB Business park is located in an area currently under development, with an extensive commercial infrastructure and a newly constructed upper-middle level housing development.
The business park is located at a similar distance from the city as other business parks like the Arroyo de la Vega Business Park in Alcobendas or the La Finca Business Park in Pozuelo de Alarcón. And it is closer than some office developments such as Las Rozas, Tres Cantos or San Sebastián de los Reyes.
It is close to a metro stop, the line 9 Rivas Futura stop, and direct bus routes to and from Madrid.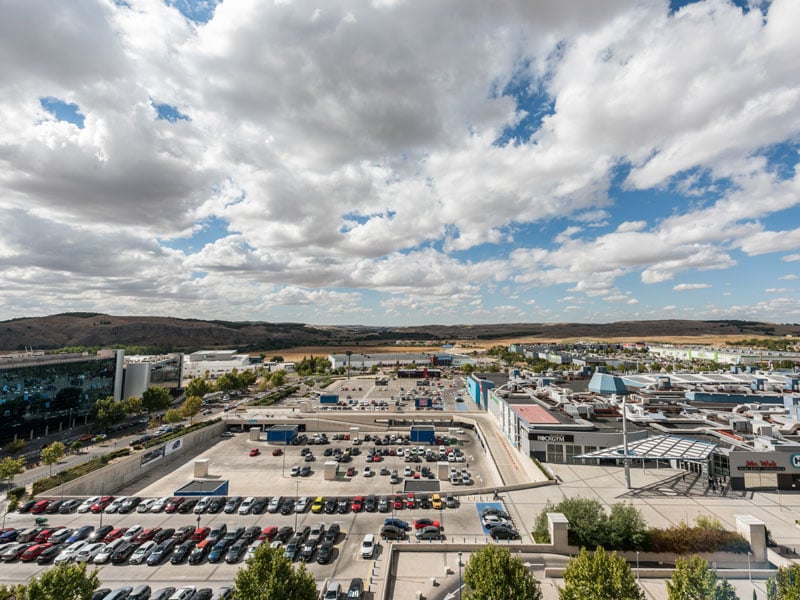 On the doorstep, there is the H2O Shopping Centre, home to more than 120 shops and stores, of which 30 are restaurants, a Mercadona supermarket, a cinema with 13 screens, a bowling alley and 19 paddle tennis courts. All in a superb setting which includes a spectacular lake, 3,500 parking spaces, under and above ground, and surrounded by more than 50,000 sq m of green areas.
Also, adjacent to the shopping centre, there is a retail park including well-known retailers such as Media Markt, Decathlon and Leroy Merlin.
The 521HUB Business Park consists of two buildings of a total built area of 44,000 sq m, where major companies such as Grupo Oesía, Faurecia, etc. have decided to locate their headquarters.
Connections are optimal both in terms of public transport as well as by road. Rivas can be accessed by bus from Plaza Conde de Casal in Madrid, by metro (line 9) and by road from the M30, M40, M45 and M50 urban motorways and the R3 arterial toll road.

By bus
Inter-Urban routes.
331 Madrid (Conde de Casal) - Rivas (Sta. Mónica) - Rivas Futura.
334 Madrid (Conde de Casal) - Rivas Urbanizaciones - Rivas Pueblo.
By road
Junction 17 of the A3 Motorway, Rivas Vaciamadrid direction.
Excellent connections with the M40 and M50 urban motorways.
By Metro
Line 9. Rivas Futura Metro stop (300 m from the business park).
Line 9. Rivas Vaciamadrid Metro stop.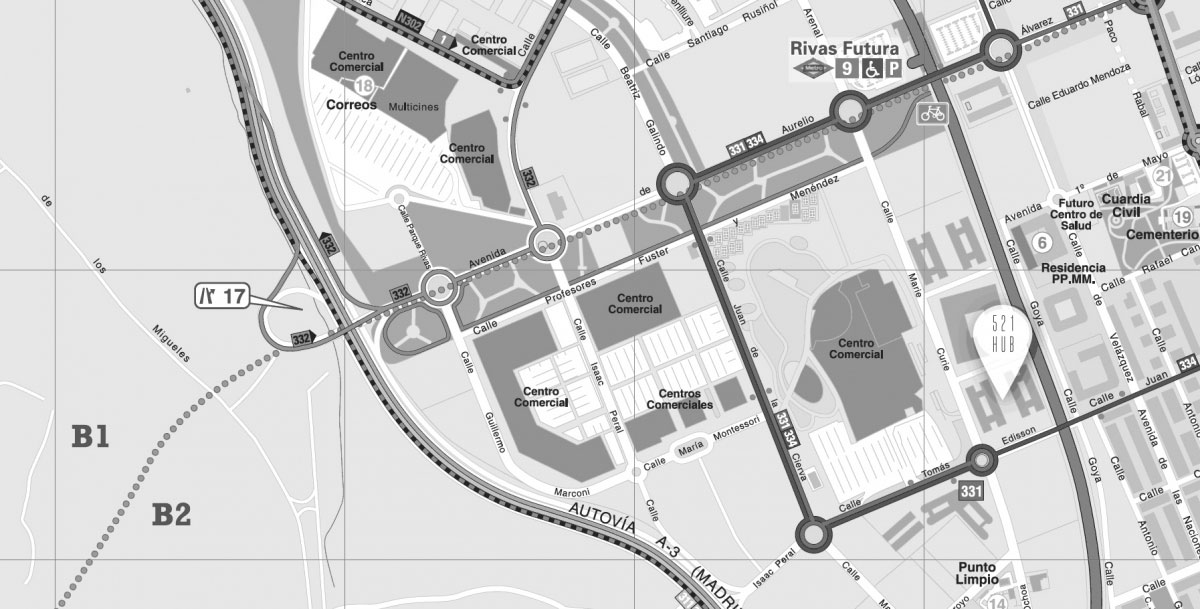 ---
---
---
---
---
---
---